OPERA
Die wundersame Geschichte des Peter Schlemihl (1991)
Opera for puppets, for trio of vl., vla. and cello, Text Adalbert von Chamisso (40 min)
Libretto Claus-Michael Trapp, stage Helga Jahnke, director Alexander Schulin, Puppets Muenchen Biennale. Commission by the Capital of Munich for the 3rd Muenchen Biennale 1992.

Der Schneemann(1989/90)
Opera for 12 soloists, choir, large orchestra, libretto Walter Jens (90 min)
UA 18.11.90 Ulm, Hansjörg Hacks-Klaus Hellenstein-Mathias Husmann-Soern Eckhoff, commissioned by the Province of Baden-Wuerttemberg.
Joy (1983)
A chamber opera for 6 singers (sopr, mezzo, alto, tenor, baritone, bass) and 12 instrumentalists, libretto Roy Kift (60 min)
Fl.clar.hrn.trp.-piano etc. hrp.-1 perc (2)-2 vl.1 alto.1 vc.1 db.
UA 03.03.86 Kiel, Didier von Orlowsky-Haitger Boeken-Alfred Eschwe-Janet Cobb (Joy)
Prize Wuerttembergisches Staatstheater Stuttgart 1984.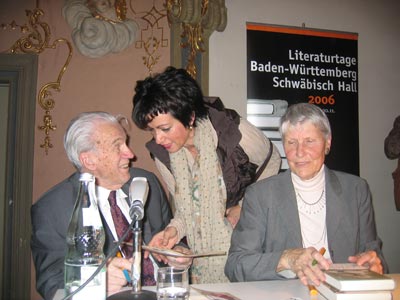 with Walter Jens, the librettist of "Schneemann" and Inge Jens